Garage Door Repair
Back To Our Services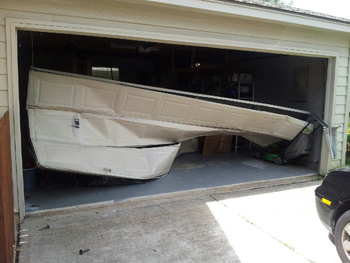 Our garage door company in Vista was started many years ago with a small office but backed up with big dreams. Over the years, we were able to build a strong and trusting relationship with the community by providing them only the best when it comes to garage door services. We have grown into what we are today, now known as the best in the field with highly trained technicians and contractors and carrier of highest quality products.
When your garage door is off the track, we can help you fix the problem and prevent it from coming back. Our company offers complete garage door repair and installation services. Our trained technicians can repair and service your door rollers to make sure that they do not come out of their guide tracks. We will prevent your door from collapsing or falling. Our technicians will adjust and inspect your door to make sure that this issue will not arise again in the future. We have your back when you are having problems with your door. Our company always makes sure that all your door needs are addressed. We work expertly and honestly and guarantee top of the line products and services from start to finish.
We offer a complete line of garage door services in Vista. We install, replace, and repair garage doors and garage door parts. Our repair services though is quite popular because we do not turn away any assistance request no matter now complex and hard the issue is. Our technicians went through rigid training and certification to diagnose and repair any garage door problem. We also guarantee timely completion because we value our clients' time.
One of the most important repairs that we offer is fixing broken emergency release. This part serves as a safety precautionary method that needs to be working perfectly when needed. We are experts in either replacing or fixing this for you depending on the need. Cables and tracks are also important parts of your garage doors that are crucial in any garage door operation. If snap or come lose and they can come off the drum, when this happens your garage door may not work properly anymore especially if the track is bent. You should not have to break a sweat to fix because we can repair these for you at any time of the day or night. All you need is to call our experts at garage door company in Vista.
Replacing bottom door rubber and weather stripping are both highly important because these are made to keep water out of your garage, which could be quite dangerous if left unattended. One of the most critical part of any garage door are the springs as they are usually not repairable. You will need to get new ones installed because a defective spring is very dangerous. Replacing them should never be done by anybody who was not trained to do it. This task requires a professional. Our contractors are all qualified to take this job on for you so you stay out of danger.
We are called the best garage door company in Vista simply because we have been able to prove our capability, workmanship, and professionalism over the years. We stay on top because we believe in continuous training, quick response, availability, affordability, and great customer service. All these equate to complete customer satisfaction, which remains our ultimate goal. We have gained our customers loyalty, respect, and trust by ensuring all these things in every job we take.
If you want to know more about our company, you may visit our website at www.GarageDoorCoVista.com or call us at 619-210-0872