Garage Door Cables & Tracks
Back To Our Services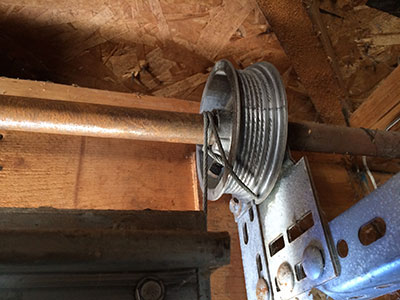 Our garage door company in Vista has been called the best in the area. Why? First, we only hire the best garage door contractors around. Every one of our contractors has gone through extensive training. We make sure they know everything there is to know about a garage door before we ever send them out to perform any garage door service. We are also there when our customers need us. We are here to take your emergency calls. For example if you get up at 4am, your garage door is stuck, and you need to get your car out to go to work, call us and we will rush over and help you out. That is dependability for you. We are also affordable. In fact, we have the best prices around. Call us today and let us take care of your garage door needs.
Sagging doors can be a problem at home. As homes and doors age, they can move and shift. This often results in a garage door that requires reinforcement or realignment. When you are having this problem, call us. We are experts in repairing sagging garage doors and other repair services. When you call us, we will provide you with an estimate and explain everything in detail. We will be sending highly qualified service technicians to your home. They will work professionally and expertly in adjusting the doors. In addition, they will inspect the entire opening to make sure that the door is not damaged. Once we are able to fully understand the extent of the damage, our technicians will fix the faulty parts and make the necessary adjustments to make door work.
We do many different garage door services for the people of Vista but one that we do is on garage door cables & tracks. Cables and tracks are an important part of the operation of the garage door. Without these cables & tracks working correctly your garage door will not open or close. Our garage door company in Vista will be glad to come out to your home, check out your cables and your tracks, and make sure they are working, as they should.
The cables on your garage door can have some issues.
The cable can snap, the cable can become lose, or the cable can come off the drum. These are all simple things to repair. However, if they are not repaired right away they can cause more extensive problems with your garage doors. The cables are not expensive if they need to be replaced and we carry them at our garage door company in the city of Vista.
Your garage door track can also have issues. Garage Door Track may bend; we can repair a bent garage door track. The track may need replacing we can do this also. The tracks are a little more costly but there is no way around it, if your track is no good, it must be replaced. Cables and tracks are probably the most used parts on a garage door along with garage door springs, so they are going to wear out eventually no matter how good you keep up with the maintenance on them. Call our garage door company and let us repair or replace your cables & tracks today.
When you are looking for a garage door service to take care of any of your garage door needs in Vista our garage door company is the company that you need to call. We are the best in the area and you will soon find out why. You will see we are dependable and trustworthy and you will get the best work at the best prices.